WSX Carbon Fiber Adhesive Material
Material Profile
WSX Carbon Fiber Adhesive Material serves as the supporting binding material for the carbon fiber reinforcement technology that is composed of primer, leveling material and binder. Among these three materials, the primer focuses on enhancing the bond quality of carbon fiber; the leveling material makes the surface evenness meet the specifications and is featured with reliable bonding strength with base course resin and impregnating resin; the binder serves as the main binding material of carbon fiber sheet, which can achieve fully bonding between carbon fiber sheet and concrete and make them jointly stand the action of structure. It can meet the standard requirements of performance indicators for the structural adhesive I-type A-class adhesive applied to boning fibrous compositein GB50728-2011"Technical Speculations of Safety Appraisal for Reinforcement Material of Engineering Structure".
Performance Feature
1. It is featured with low viscosity, good wetting property for fiber composite material and concrete, and its tensile bond strength with concrete is higher than concrete strength, which can be applied without primer coating.
2. It has extremely high strength and toughness, can work with fiber composite material, and well match with fiber composite material after curing.
3. Resistance against erosion of multiple chemical media, and its joint work with fiber composite materials in the severe environment provides reinforcement and anti-corrosion for concrete structures.
4. High heat distortion temperature and good weather resistance.
Application Field
1. Supporting materials for concrete structure, masonry and carbon fiber reinforcement technology of timber member;
2. Bonding for marble, granite and ceramic tile;
3. Repair and bonding for various metal, woodwork, porcelain, rubber, glass and part of plastic.
1. Mix Ratio
Primer: A:B=4:1
Adhesive Material: A:B=4:1
Levelling Material: A:B=3:1
Consumption
Primer: 0.2-0.3kg fiber cloth/㎡
Adhesive Material: 0.6-0.8kg fiber cloth/㎡
Package and Storage
1. Package: Primer and adhesive material: 20 kg/group, leveling materials: 28kg/group.
2. It should be kept in cool and dry condition with 12-month shelf life.
3.It is a safe, nontoxic and nonflammable substance that can meet the transport requirements of civil aviation and railway.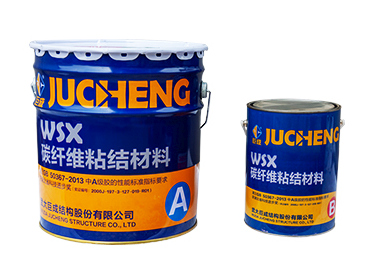 Application Case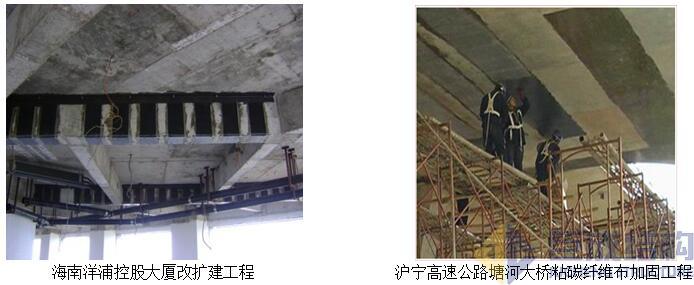 Renovation and expansion project for Yangpu Holding Building, Hainan Province
Reinforcement project of carbon fiber cloth for Tanghe Bridge, Shanghai-Nanjing Expressway